After only a few months after its appearance, ChatGPT has created a global trend and made Google urgently mobilize its employees to participate in developing a chatbox that can compete with this new content creation tool. The powerful features of ChatGPT are undeniable, but there are serious defects that can affect the user's experience. In this article, Coming will analyze and evaluate the advantages and disadvantages of ChatGPT to make an objective assessment of this new wave in the technology field.
What is ChatGPT?
ChatGPT stands for Chat Generation Pre-training Transformer, which is a tool developed by OpenAI company based on the foundation of AI technology. It can be considered as an artificial intelligence that works in the form of dialogue. This tool might imitate dialogues while interacting with users and make information search no longer monotonous like using search engines.
The mechanism of ChatGPT is to record the user's question, then use the information collected on the Internet to develop the answer. There are about 570GB of information and 300 billion words recorded in the system from various sources.
According to the keyword analysis tool Semrush, the keyword "ChatGPT" has reached one million searches in countries such as the US and Australia. It can be said that this tool has revolutionized the way we create and share digital content.
Features of ChatGPT
ChatGPT has a lot of useful features, but in this article, Coming only mentions the most important and outstanding ones, including:
Creating Content
Using pre-installed data in the system and updated from many sources through deep learning algorithms, ChatGPT can complete most of the user's requirements. After launching, this tool was often used to write and develop recommendations. ChatGPT can translate many languages and has the ability to write articles logically. As a result, it can also be used to develop outlines for scientific papers. In addition, content creators can also ask it to summarize an existing video or text and then write new content based on this material. It can be said that ChatGPT can become a supportive tool for marketers and content creators on the digital platform if used properly.
Applications in the service industry and customer care
ChatGPT is an automated chatbot, for that reason, this tool can be used to generate automated responses for customers. In addition, ChatGPT is multilingual and can analyze customer opinions based on information on social media or other websites. Therefore, business owners can understand and identify their potential customers, and come up with a response strategy without spending too much time analyzing customer behavior.
Application Programming
A programmer named Daniel Tait realized another outstanding ability of the content creation tool ChatGPT in programming a game application. In more detail, this tool has created, programmed, and named a new game called Sumplete based on the popular Sudoku game.
First, Tait asked this tool to recommend a list of games that are suitable for fans of Sudoku. Then he asked this tool to create a new game with rules similar to Sudoku, and ChatGPT returned two games called Labyrinth Sudoku and Sum Delete. Tait's next request is to reprogram Sum Delete in two programming languages HTML and JavaScript. After a few hours of talking with ChatGPT to finalize the programming and design, ChatGPT has come up with a complete version of Simple. Thus, after only a few instructions, ChatGPT was able to create a whole new application.
Common problems occurred while using ChatGPT
Although there are many attractive features, the barriers users have to face when experiencing ChatGPT are still unskippable. These limitations will be explained in more detail in this section of the article.
Complicated account registration
In order to access and experience the ChatGPT content creation tool, users are required to have a pre-registered OpenAI account. However, OpenAI has not been supported and still blocked access in many countries, including Vietnam. Therefore, Vietnamese users have to change the server address to countries supported by OpenAI such as the US, Japan, Canada, and Australia,… After changing the VPN, users have to have a phone number in the above countries to receive the verification message before starting the ChatGPT experience.
Thus, this tool is still not completely user-friendly and easy to use for users in Vietnam. Users need the support of third parties to be able to participate in ChatGPT's community.
System overload
The explosive growth of ChatGPT has exceeded the expectations of its creators. On February 21 of 2023, the ChatGPT system suddenly crashed due to an overload of users. When trying to access the website, users received a notification that they would have to wait while the OpenAI team found the solution.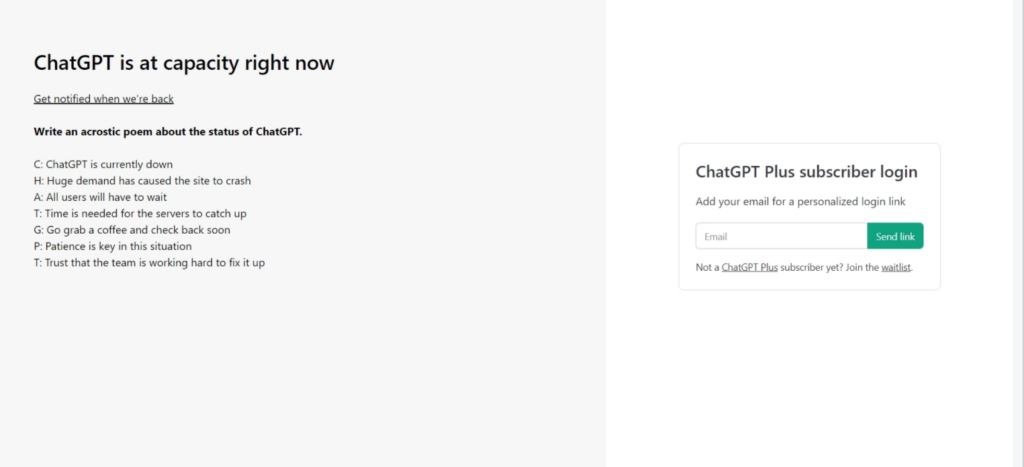 According to DownDetector, after 14h, the number of accounts reporting errors that could not be logged in increased continuously. Even premium accounts who use ChatGPT Plus service were affected, opposite to OpenAI's previous statement. Not only ChatGPT or ChatGPT Plus, but another tool of this company, Playground, also did not work normally. After that, OpenAI admitted that all products under the system had problems. It was not until after 20 p.m of the same day that the company announced that the problem had been fixed, but users of this tool complained that they were still having trouble while logging in.
Incorrect answer
According to experts, ChatGPT's answers still cannot achieve high accuracy, and certainly cannot replace humans. Although this content creation tool can extract information, it is still not possible to distinguish which answers are correct. It can be easily realized that this tool only learns through the data it has collected, but cannot conduct deep research and calculate the unreasonableness of the results or filter out valuable information. OpenAI CTO, Mira Murati, admitted that the content creation tool can provide fake facts and its answers are not always correct.
In addition, ChatGPT has not been able to develop the problem or change the approach to give a comprehensive view to the user. In particular, there is a case where ChatGPT's answer is still stupid, off topic with limited thinking. Users have to verify the accuracy of ChatGPT answers before deciding to refer to this information.
Last but not least, a serious shortcoming of this tool is that the tool has not been updated with the latest events. OpenAI stated that this tool has not been updated with events placed from 2021 up to now.
Question quality affects answer quality
ChatGPT are not able to understand contexts that are dodgy or have elements of irony or humor. Although there is no problem in processing grammar, ChatGPT is still not able to capture or analyze the complex nuances of human dialogue. In this case, this tool may give an answer that is completely irrelevant and can not satisfy the needs of users.
In addition, questions that are too sketchy or too complicated will also make ChatGPT get trouble while handling. A question which is extremely simple will return a sketchy, general and no reference valuable answer. On the other hand, a question that is too complicated can cause ChatGPT to fail to capture the user's intent and respond with a completely off-topic answer. Users need to ask short, direct questions and clearly describe their purpose. However, in many cases, this tool still misunderstands and cannot provide a satisfying experience.
Conclusion
In general, the disadvantages of ChatGPT are quite serious and can become the obstacles for this tool in its journey to reach potential users. However, this tool and the AI technology behind it is still evolving rapidly and has created a strong trend in the IT industry. If you are interested in ChatGPT and AI technology, you can follow articles and projects on the Coming's blog. Let us have a chance to give advice and help you get the most advanced experiences in this new wave.