Introduction to NFT game genre and Blockchain technology
Blockchain technology and its ability of storing and securing information have changed the game of the gaming market. In 2017, the game Crypto Kitties was born and this new player caused a storm in the gaming community when at one point this game accounted for 25% of Ethereum traffic, then making the way for the development of later NFT games. The most significant strength of NFT games is that this game genre allows players to actually own their assets within the game and generate huge profits for the parties involved, which seems impossible for the game genres that were launched before in the market. In this article, we will talk more about NFT games as well as the extremely strong development potential of this game genre based on Blockchain technology's foundation.
What is the NFT game?
NFT stands for Non-fungible token, which means a virtual currency based on Blockchain technology. The value of an NFT can be equivalent to or representative of a certain amount of digital assets, or a tokenized real-estate. NFTs can exist as various kinds of digital files such as a picture, a piece of audio, or a video which was digitized.
Based on the features of Blockchain technology and NFT assets, the NFT game was born as a new type of electronic game that authenticates the ownership of the player. The NFT game model is a kind of "play-to-earn", allowing players to earn digital currency and own unique NFTs through playing games. A typical example is the land in the game Axie Infinity This NFT has been bid up to $1.5 million by a Twitter user named Flying Falcon.
About Blockchain technology integrated in NFT games
Blockchain technology is at the core of the NFT's development in NFT games. In common, two properties which stand for equal value can be substituted for each other. However, the value of NFT is irreplaceable because each NFT represents a unique encrypted file. For that reason, NFTs can be valued, transferred, and verified in a transparent way. On the other hand, these transfers above can not be tampered. Each NFT will be encrypted with a unique code, this mechanism ensures the safety of not only buyers but also sellers during the transaction. Due to Blockchain technology, all information is secured at a high level, and transaction information can be easily accessed with just a few clicks.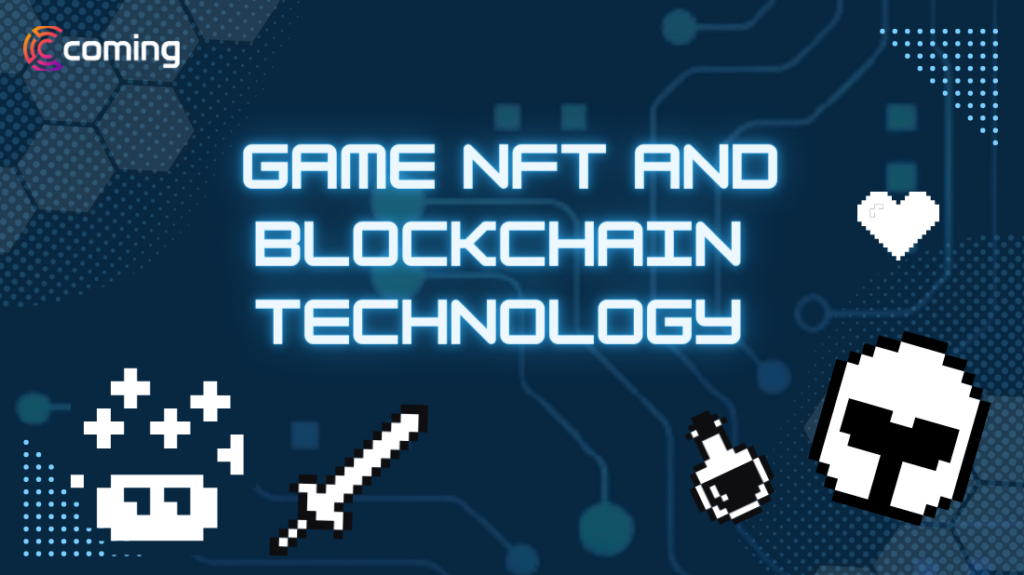 The development trend of the game NFT
NFT gaming proved that it is a billion dollar market after consecutively hitting revenue records since the first NFT game was released in 2017. In current times, NFT games have become a delicious cake for players, publishers and individual investors in case they have desires to make profit in the entertainment industry.
On the world market
The year 2021 marked a milestone when the total market capitalization of NFT reached 11.72 billion USD for the first time. In the first two quarters of 2021, the total transaction value on NFT platforms was 7.63 billion USD, increasing about 2,300% in comparison to the year 2017's data. Those maleficent numbers demonstrate that the great potential of NFT games should not be disregarded. Especially after the outbreak of the Covid-19 pandemic, people's demand for entertainment increased, this situation provided the NFT market more space to develop. Due to Blockchain technology's development which is integrated in NFT games, players have had an awareness that they can truly own in-game assets proactively and have more power to control their assets. Now their in-game currency is no longer only valuable within the game and can be out-of-date at any time, but that asset can also be profitable and allow players to trade and purchase in the market outside the game's world.
The revolution which is initiated by Blockchain technology has made gaming no longer a mere form of entertainment but become an extremely useful money-making tool for both players and publishers. Therefore, it is not difficult to understand why NFT games and Blockchain technology have become a new trend in the game market as a consequence of their remarkable advantages and strengths.
On the Vietnamese market
The Vietnamese market is a vibrant and potential market for NFT games, which includes a large number of players and many famous million-dollar game titles such as Axie Infinity, HeroVerse,… According to the analysis conducted by App Annie in 2021, up to 57% of 68 million Vietnamese people stated that they are in the gaming community. Furthermore, the average playing time in a day of Vietnamese people is in the top 10 in the world while the average person spends 1 hour 19 minutes of their free time playing video games. In terms of Southeast Asia area, Vietnam ranks second in the race of game downloads on mobile applications while top 1 belongs to Indonesia. In addition, Vietnam also has a numerous number of high level information technology engineers who have high qualifications and expertise in Blockchain technology. In general, the Vietnamese market currently has many positive conditions to become a rich land for NFT game publishers.
Blockchain technology behind the success of the most popular NFT game.
One of the most valuable and famous NFT games on the current market is Axie Infinity, a game by Vietnamese people. This game title is developed by Sky Mavis company, which is founded by three Vietnamese and two foreigners. Based on Blockchain technology's foundation, the company raised an outstanding capital and launched the game Axie Infinity in May 2021. After only five months after its release, the game's digital currency named AXS has reached $8 billion of capital value and makes Axie Infinity the most expensive NFT game of all time.
Axie Infinity's revenue comes from two main sources: charging 4.25% of the transaction value when players conduct the purchase on the Axie item market, and charging a conditional fee for players to be allowed to breed baby Axies. The in-game ecosystem was built by the development team and put on the company's blockchain called Ronin. By combining the protocol with Ronin, the company solved the problem of excessive transaction fees which are paid when players interact with the blockchain. In the future, Sky Mavis will continue to develop Blockchain technology not only to make Axie Infinity more accessible and easy to interact with, but also to support players to have more enjoyable experiences.
Blockchain technology's foundation has supported Axie Infinity as well as all NFT games in general to ensure data integrity, build a transparent and anti-copy platform, then increase player interaction. The innovation of this technology has not only made buying and selling and trading more efficient and secure, but also built a solid foundation for the stability of the game in the long-term development plans. In 2022, Sky Mavis announced that the "play-to-earn" version of Axie Infinity Classic called Axie Infinity Classic was closed and the company would focus on developing Axie Infinity: Origin, the "free-to-play" version of the original game. It is the sign of the transformation of NFT games in the market to develop in the traditional way with the goal of providing a more enjoyable experience for users.
Conclusion
The great advantages that Blockchain technology can bring to game publishers can not be dismissed when looking at the maleficent growth rate of the current NFT game market. In the technology race, publishers can consider Coming.io as their supportive partner to look for innovative solutions and be provided the most advanced business process automation digital transformation services. Coming to Coming.io, we will become your hand which may help you to keep up with the strong trend that Blockchain technology has been leading in order to bring the greatest value to businesses.